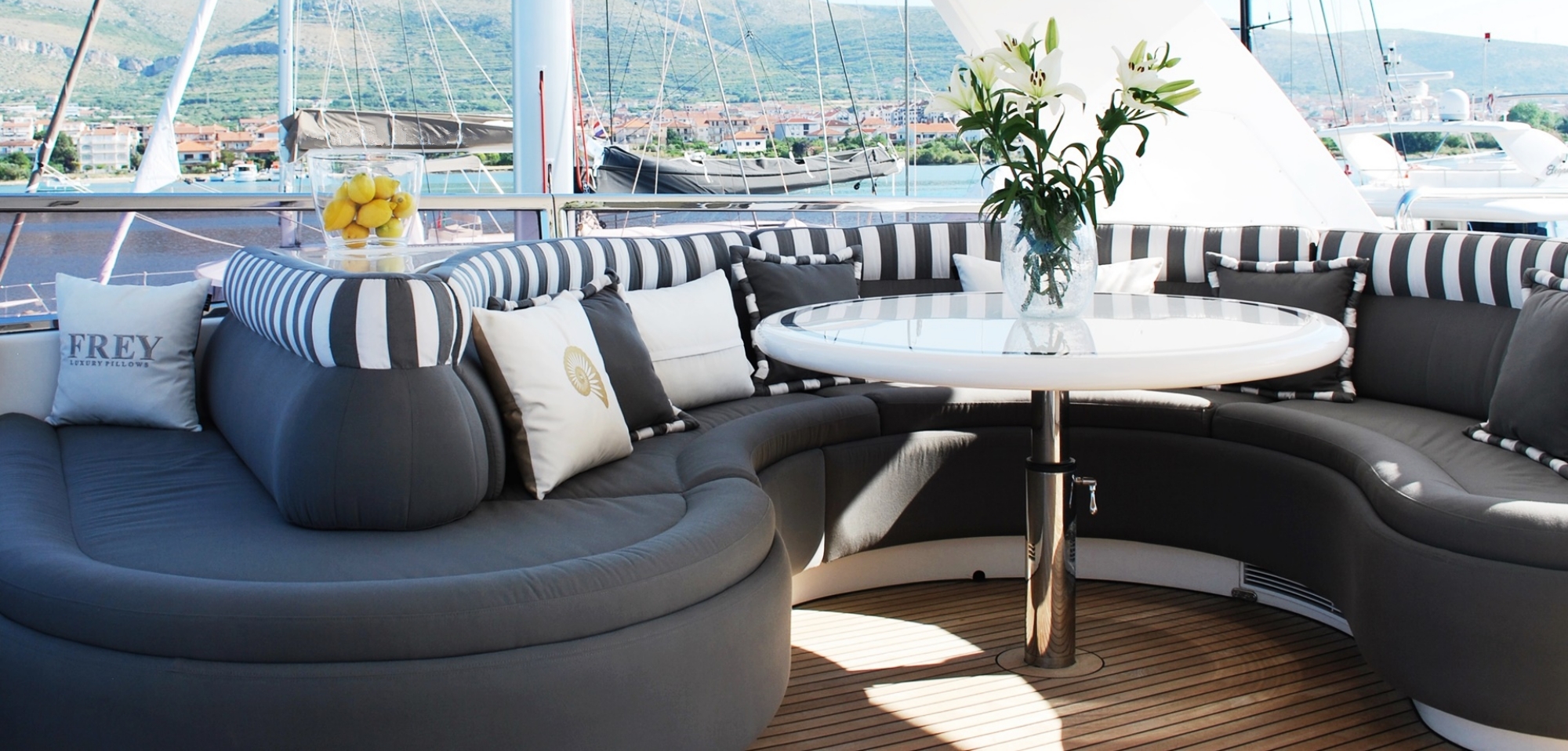 Reupholstery Complete Yacht Exterior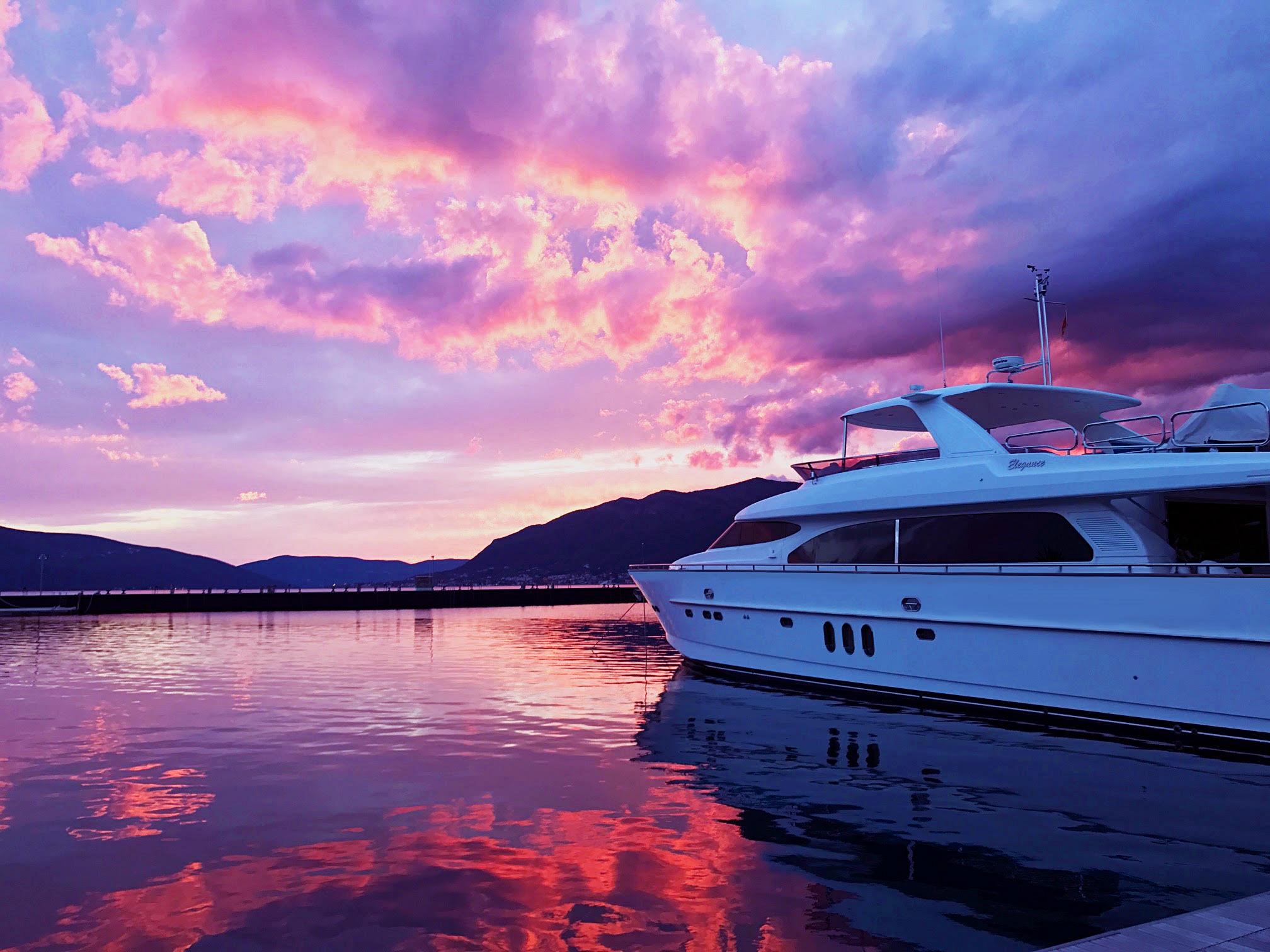 PROJECT: Reupholstery Yacht Exterior
Superyacht name: Elegance 78 ft
Length: 23,8 m
Main goal: To keep the previous form of yacht design seating but modernise it into a stylish and contemporary look
Duration: 30 days
Frey participants: Vanja, Matija, Sara (Design)
Nerko, Ante, Tome (Production & Assembly)
Materials used: Sunbrella Cushions®
Location: Marina Mandalina, Šibenik, Croatia
Outstanding design For Elegance 78ft
With FREY uplift
Horizon Elegance 78ft is such an interesting project, that proudly stands behind Frey. The story began when two enthusiastic British yacht owners of the beautiful Horizon yacht – Elegance stepped into our office in Biograd Na Moru.
The owners wanted complete re-upholstery of their yacht; bow, complete flybridge seating, sunbed and cockpit lounge seats with
decorative pillows.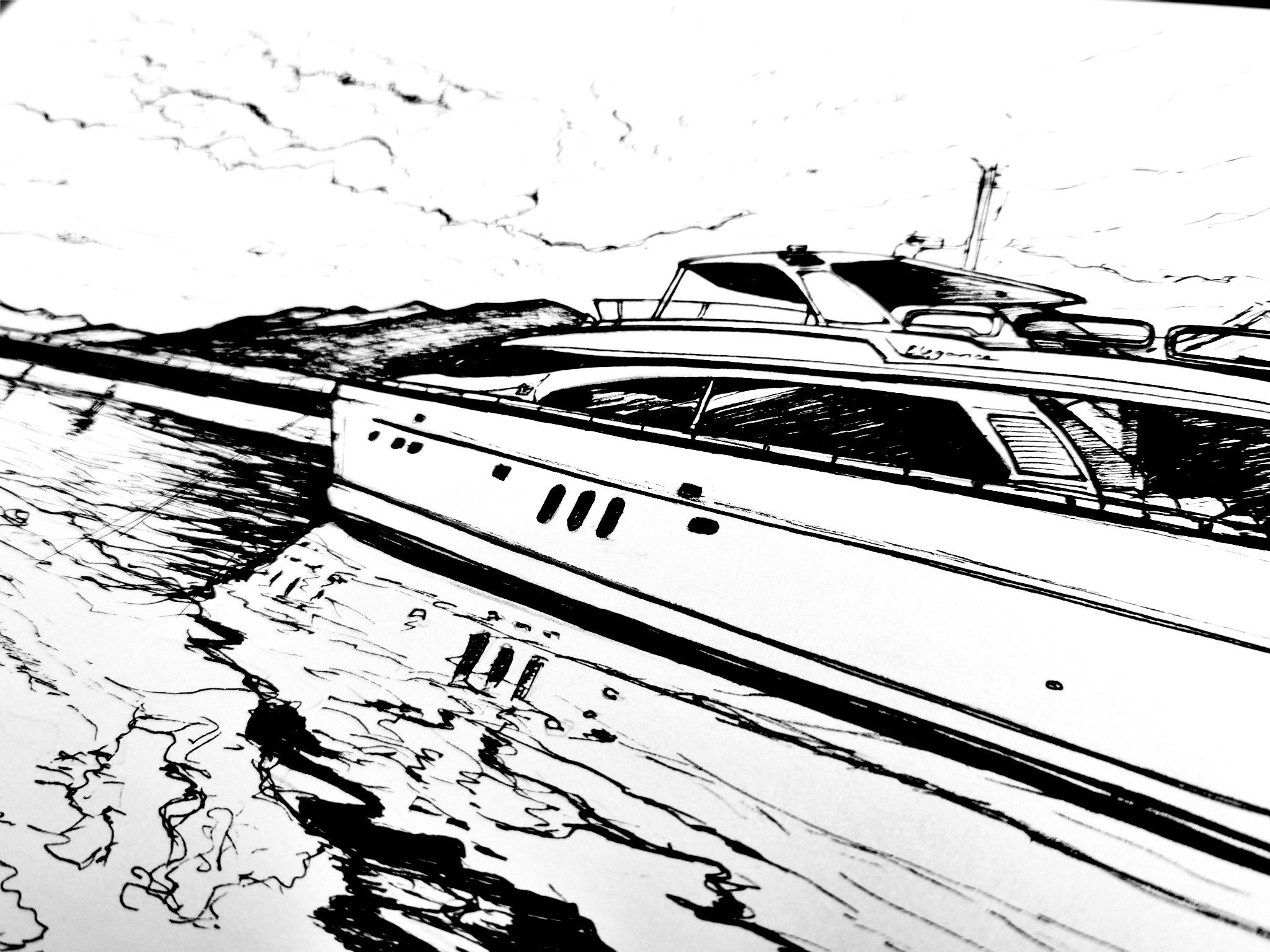 So How Could The Ambiance Of Elegance Yacht Actually Look Like?
Our aim was to keep the style of the existing cushions but to replace them with newer, more modern and stylish ones that would make the Elegance yacht look luxurious again. Our art-sketch presented the best concept to the owners.
Yacht Stripes For A Timeless Look
Stripes are a timeless pattern in the yachting world and can make stylish any yacht interior or exterior in good combination.
After a pleasant briefing session with our client we selected combinations of Sunbrella Cushions® fabrics; Charcoal Grey – to be dominant in perfect contrast with the white colour of the entire yacht, emphasising the beautiful teak. Sunbrella Charcoal Yacht Stripe reduces the strong contrast between the grey fabric and white interior.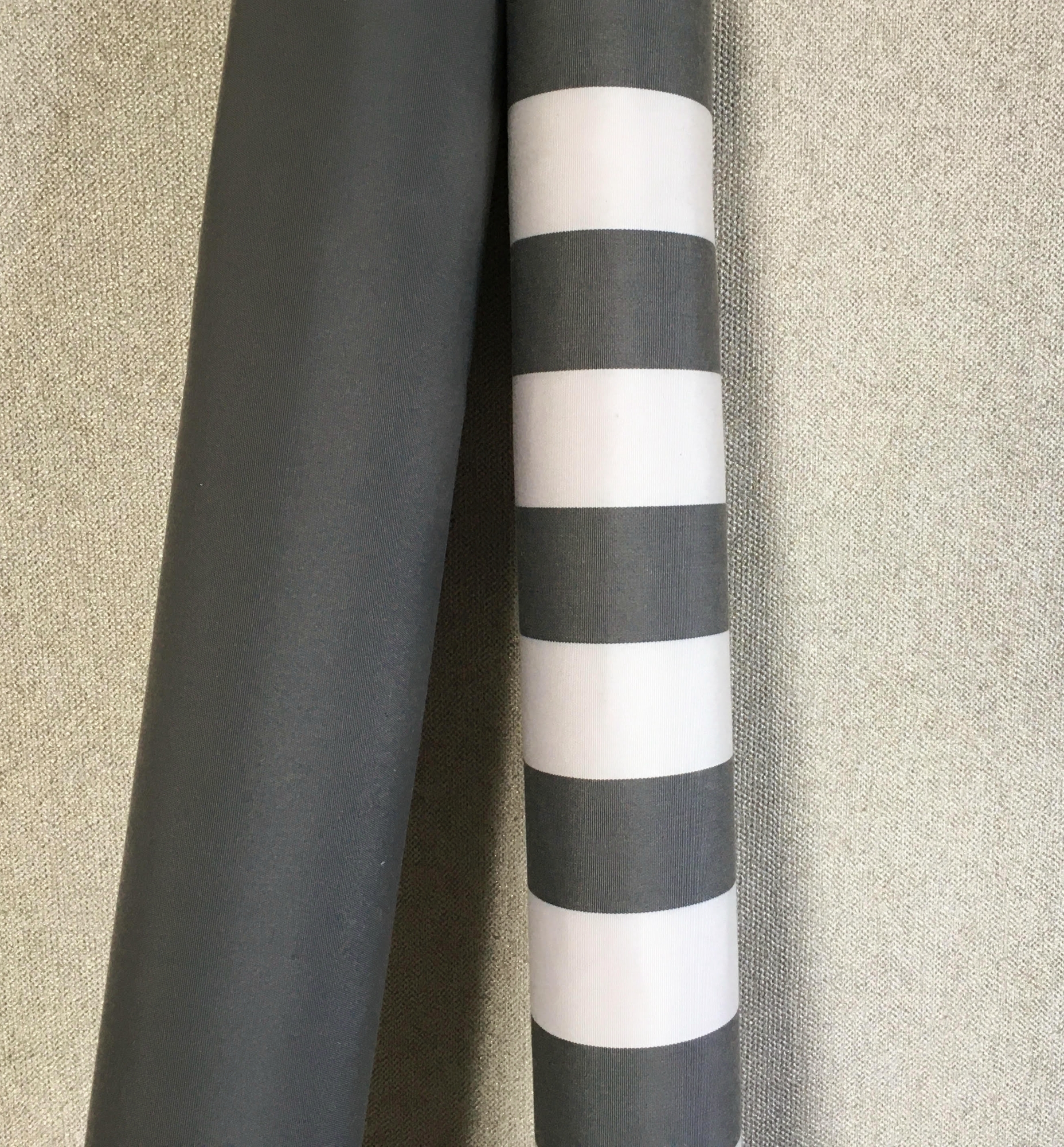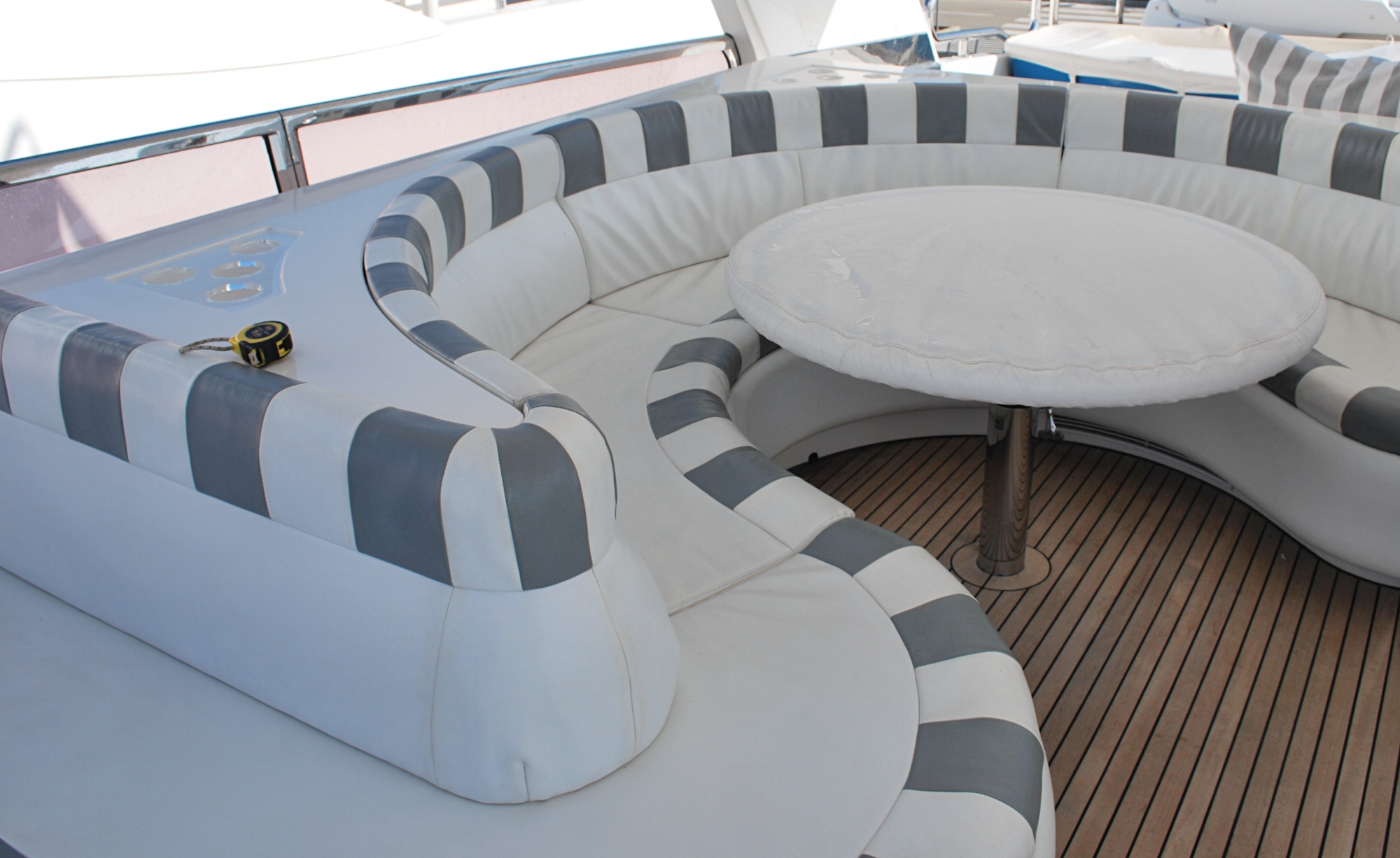 The Flybridge Zone As Horizon Elegance 78 FT Deserves
Challenge creates big change
It was quite trialling to make backrests on saddles that have large curves on the yacht seating backrests. The biggest challenge was to join the stripes so that the pattern was equally uniform everywhere, as the width of the canvas itself did not allow it. This allowed for continuous and flawless flow throughout.
New Stylish Sun Lounge On The Flybridge
This included the complete flybridge sunbed and seating, bow sunbed and cockpit lounge seats with decorative pillows.
The luxurious ELEGANCE yacht simply needed 'new life – new style' … a touch of freshness.
Time to relax!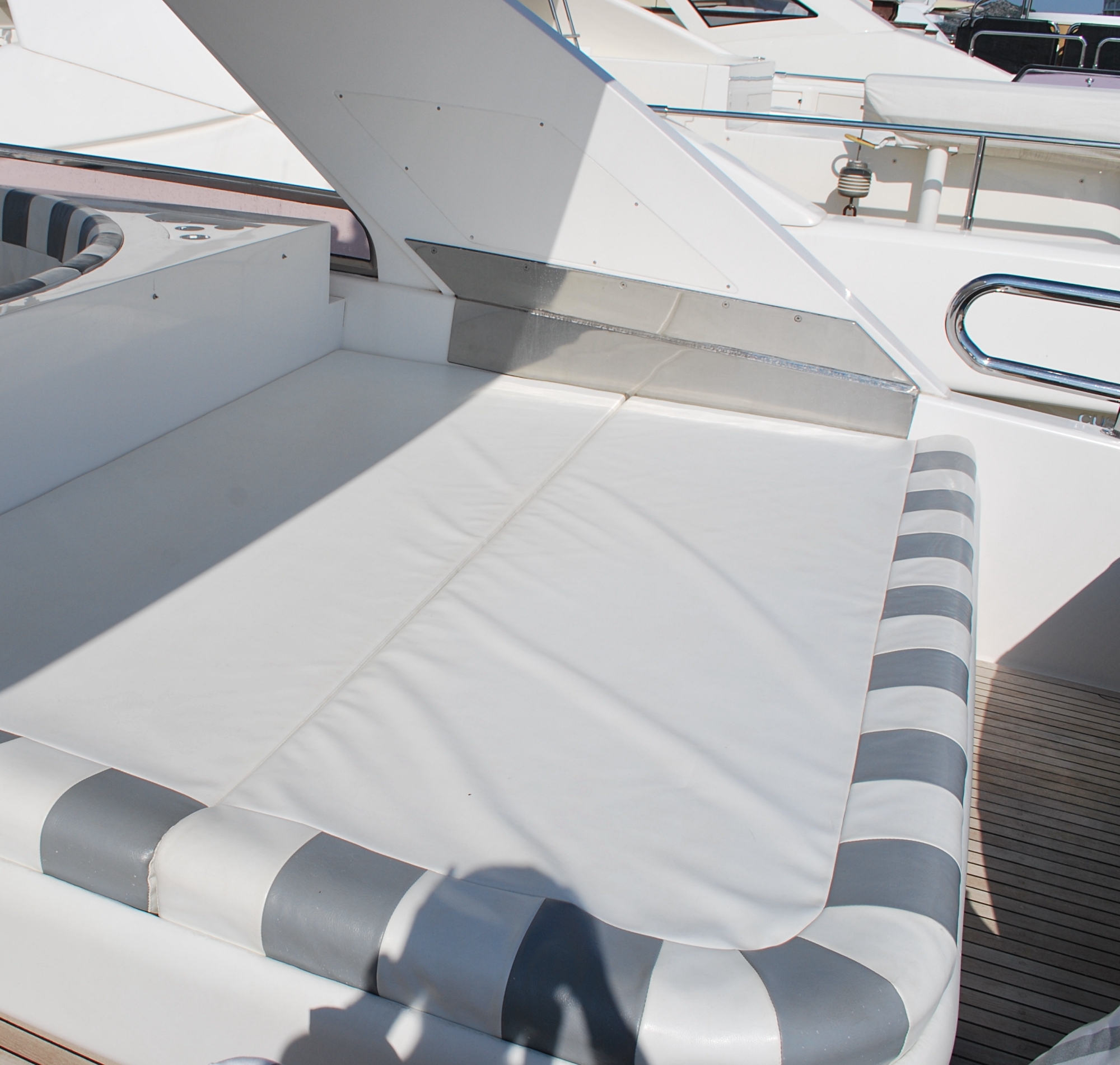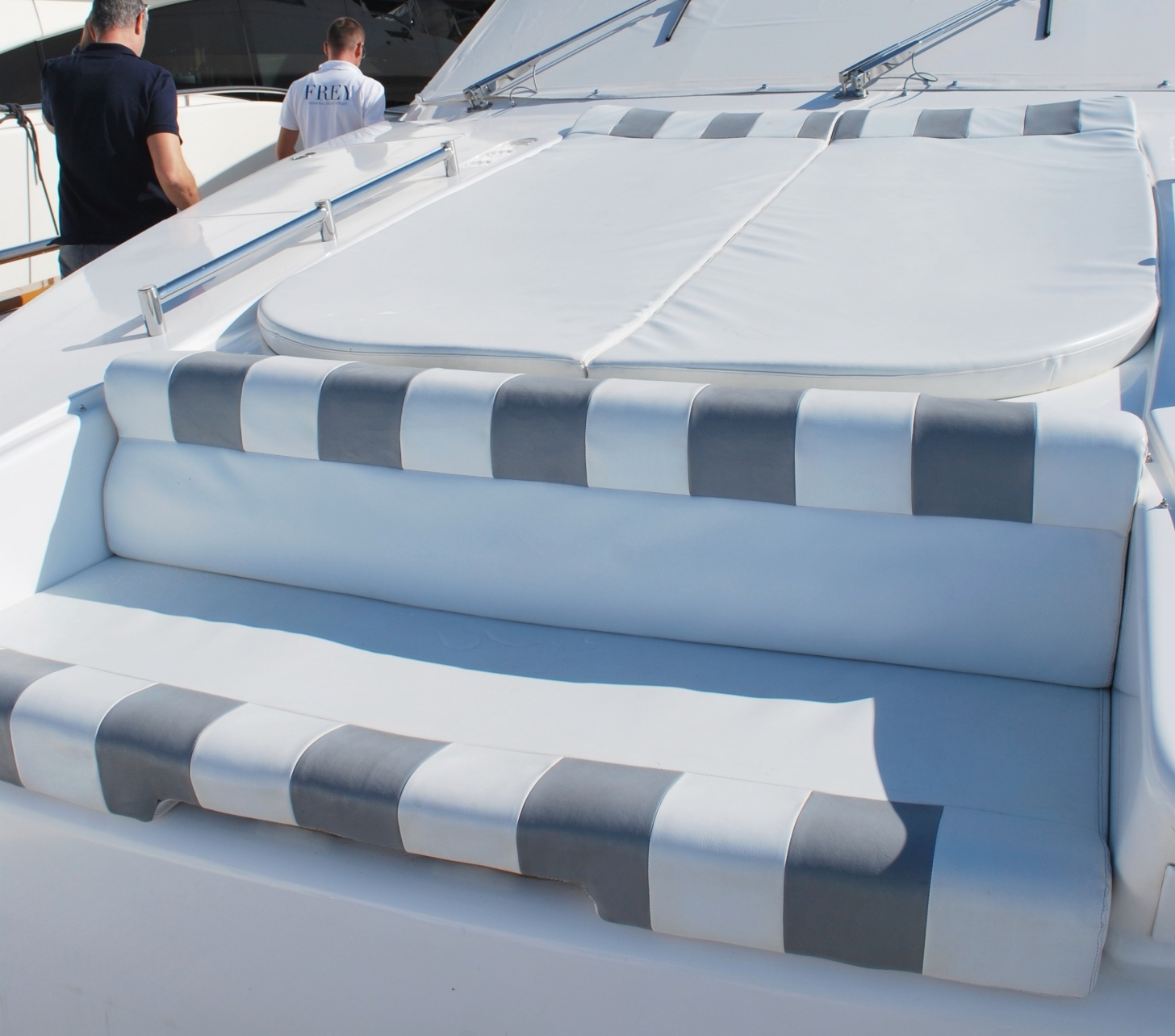 Bow Deck With Dynamic Sunbed Cushions
There is no better place to unwind during sailing than on the soft yacht sundeck cushions. In order to decently separate the sunbathing area from the front seats, we also included stripes that are already a recognisable part of the design of
this project.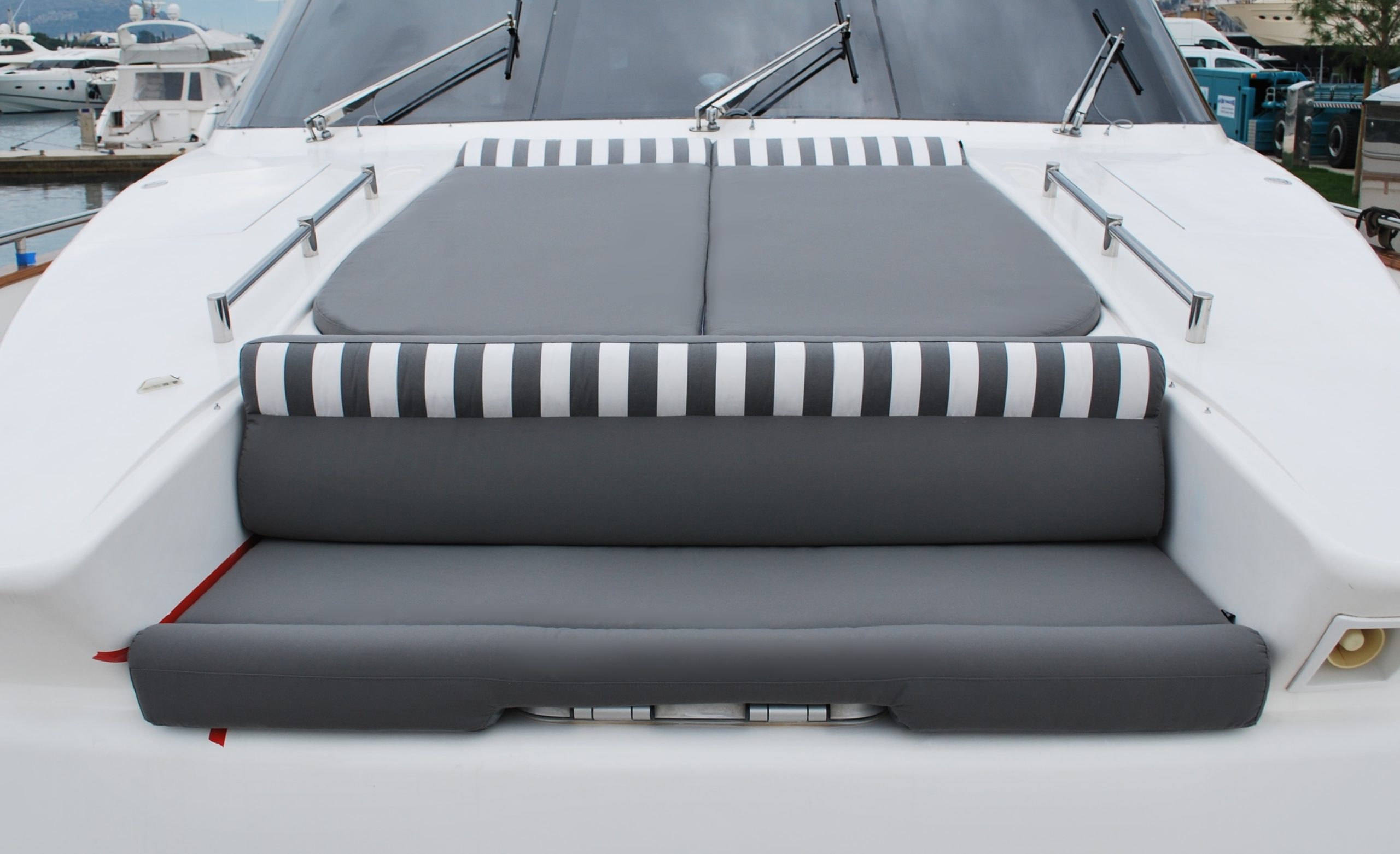 Luxury Pillows For The Luxurious Horizon Elegance 78 FT
Our customised Frey Luxury Pillows complete the Elegance yacht's interior and exterior displaying more comfort and softness.
Personalisation is the key.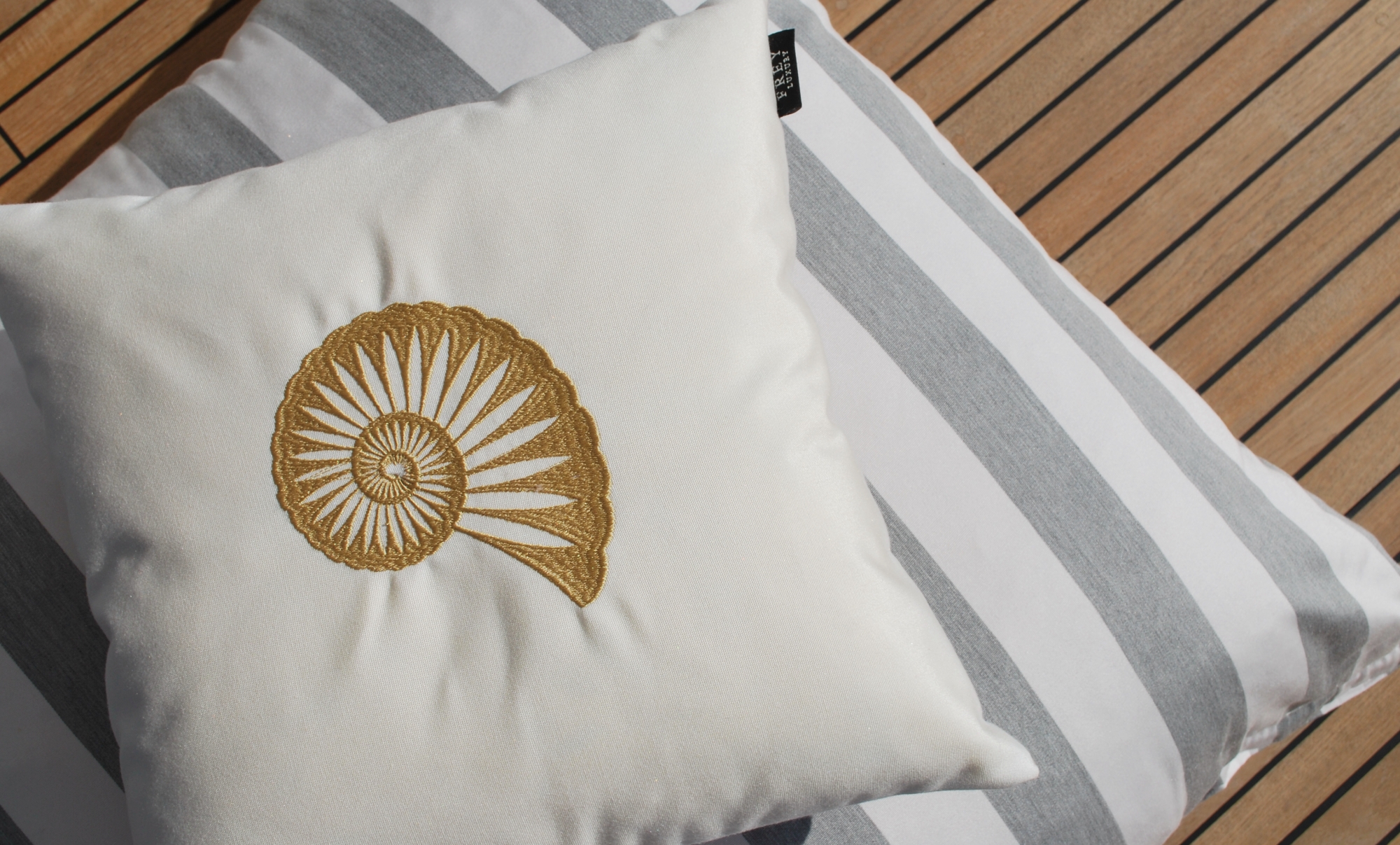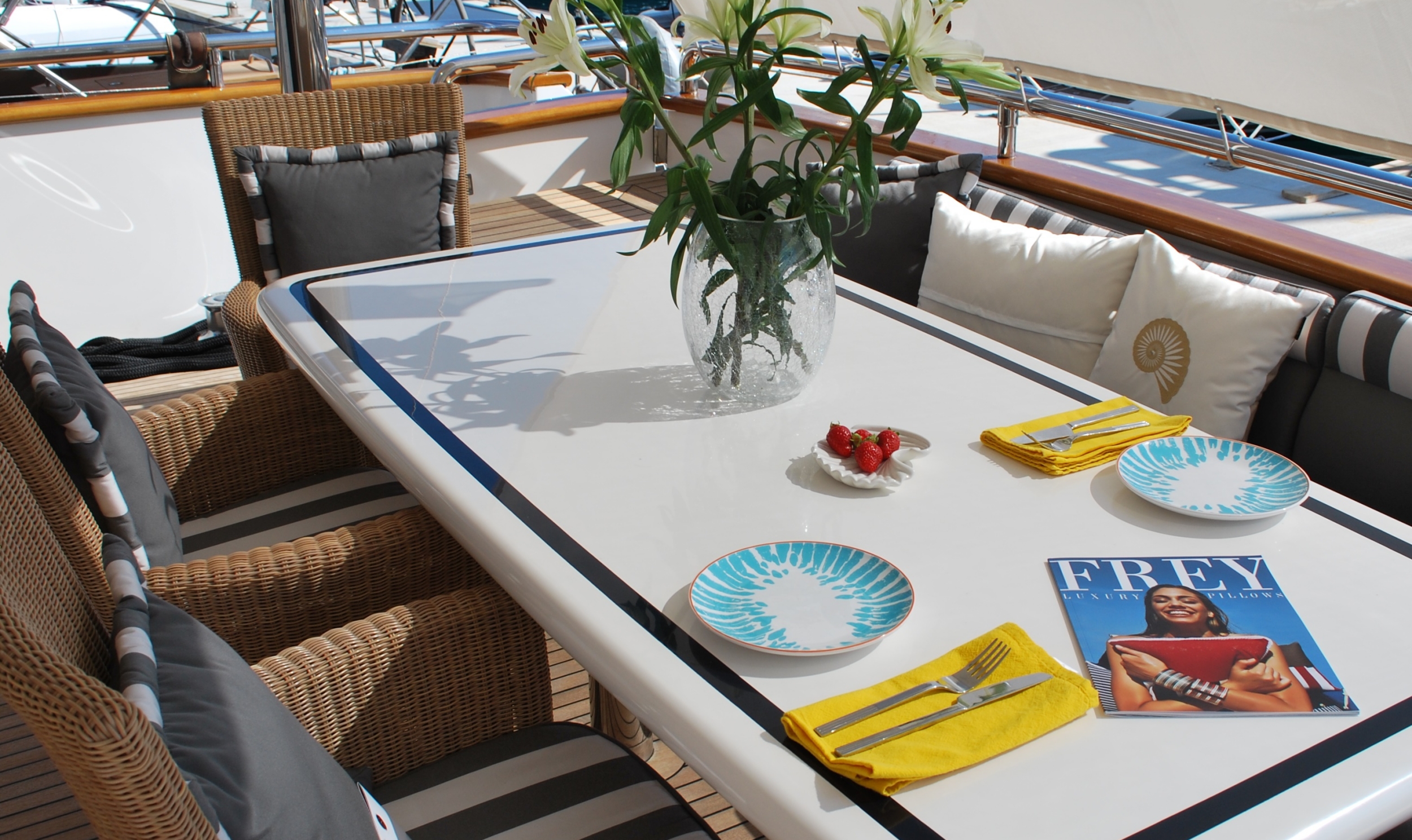 Lounge With New Stylish Upholstery
The cockpit Lounge is now more modern,
cosy and stylish.

From bow to flybridge and all the way to the cockpit, a FREY complete makeover of upholstery was necessary for the Horizon Elegance 78ft yacht.
It's time for cruising!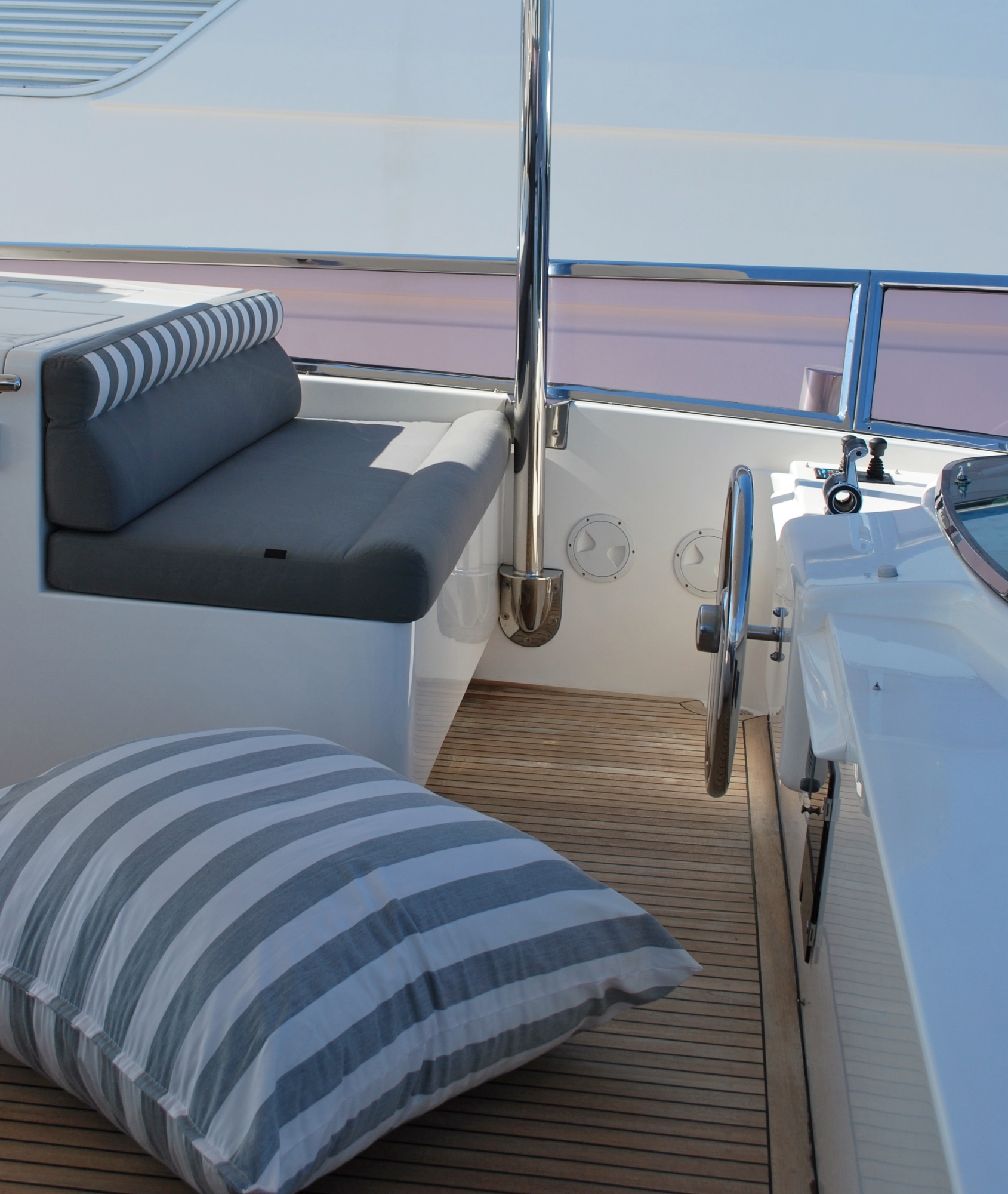 Explore more highlights on the luxurious ELEGANCE 78 FT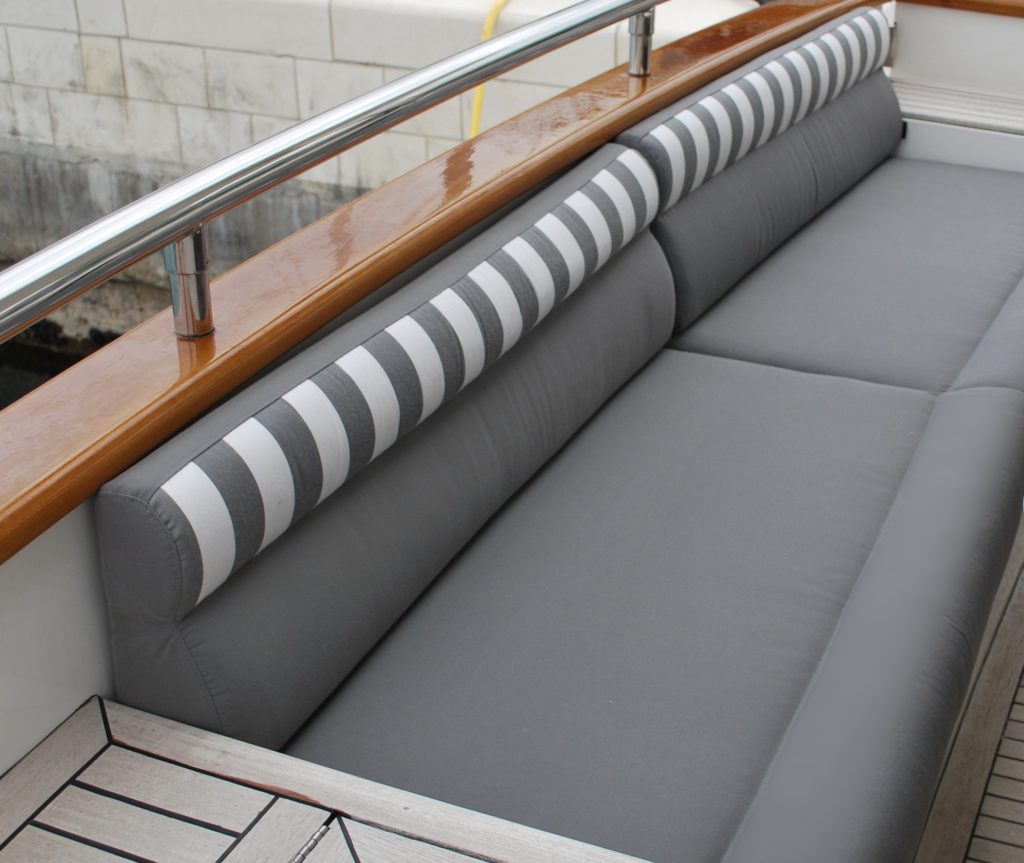 #Similar Projects