COMPLETE NEW UPHOLSTERY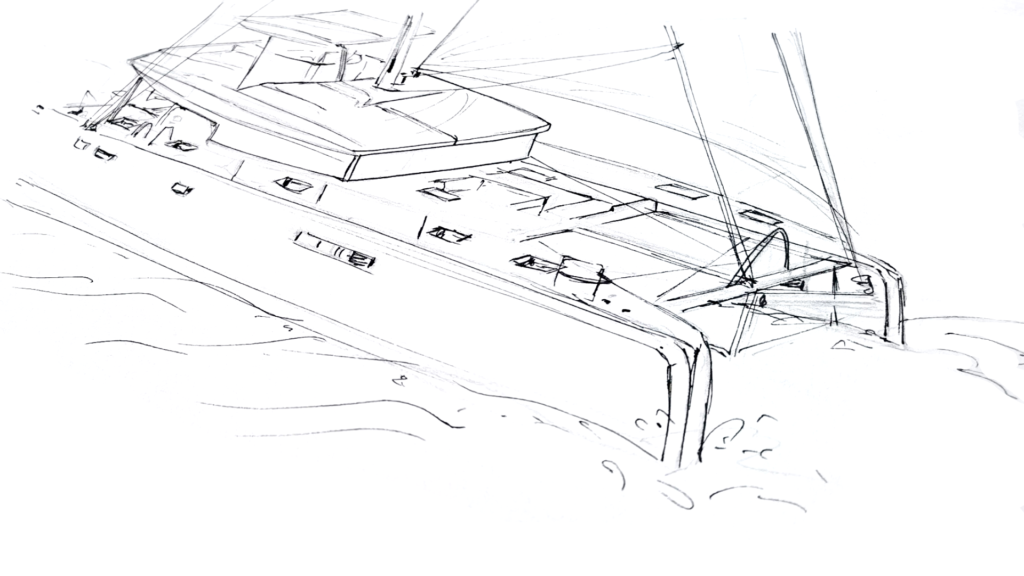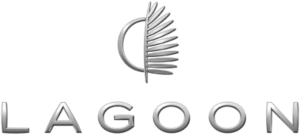 PROJECT: New Upholstery Yacht Exterior
Lagoon name: Lagoon 52 F Catamaran
Length: 16 m
Main goal: Complete new upholstery with a unique style to set apart this Lagoon 52 from other charter catamarans
Duration: 30 days
Frey participants: Vanja & Matija (Design), Nerko, Ante, Tome (Production & Assembly)
Materials used: Sunbrella Cushion®, Aquaclean®
Location: Kremik, Marina ACI, Croatia
How The Lagoon 52 Catamaran Became A Star
-'THE ADRIATIC STAR'
Whether cruising with family or friends, this Lagoon catamaran should embellish a comfortable atmosphere or be a perfect background setting for parties at sea with friends or family. Cruising can be memorable and cosy but with a personalised upholstered catamaran it could be definitely more memorable.
Our mission at FREY was to create all 3 lounge areas into very comfortable and personalised zones for extraordinary cruising. We also wanted to set this Lagoon catamaran apart from other charter catamarans.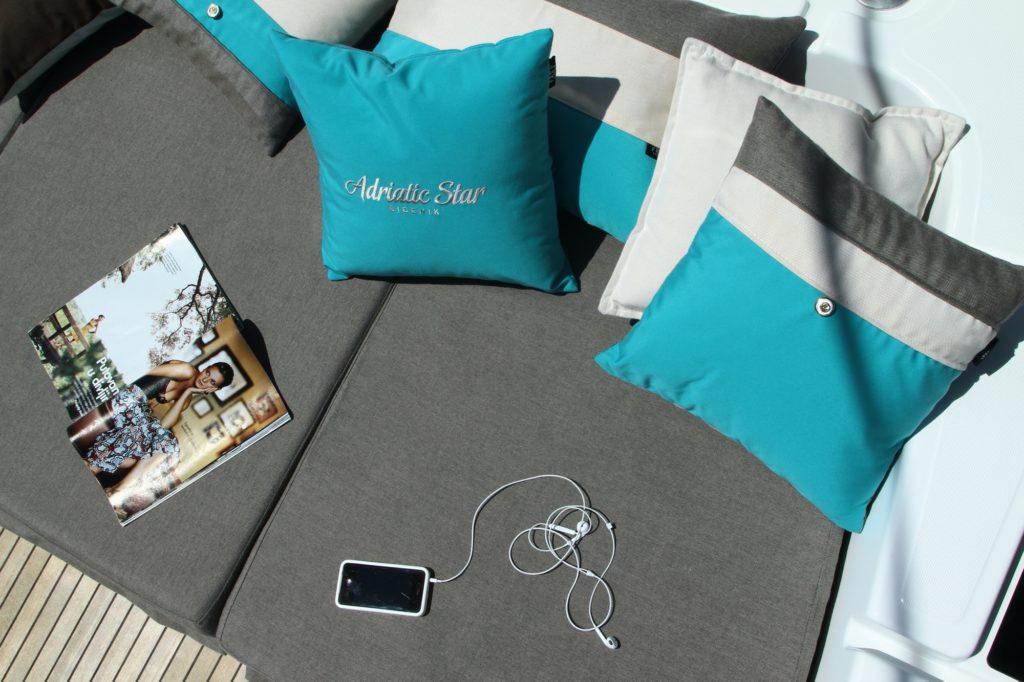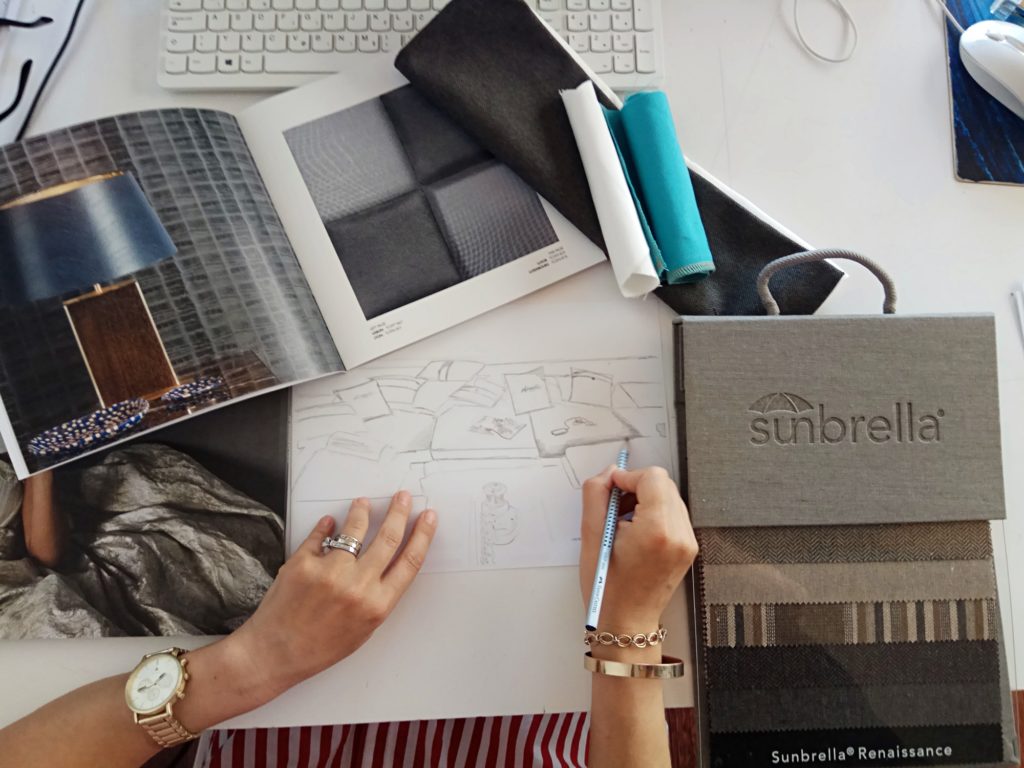 Giving The Impressive Catamaran Personality
As the Lagoon 52 stands true to a catamaran of freedom, elegance and perfect sailing performance, this was a superb project for our Frey Yacht Stylist team.
It was our aim for people to know about this yacht, talk about their yacht experience as passengers and spread the word around to family, friends and potential passengers.
Comfort and colour choice were crucial factors for this project.
We wanted this Lagoon 52 to justify its name – 'The Adriatic Star', and to be known by it.
Modern Sunbrella Grey & Turquoise Yacht Upholstery For Luxurious LAGOON 52
Frolicking with colour palettes from the Sunbrella range, our designer team chose the colour combination of Sunbrella Cushions® Aruba (turquoise) and Sunbrella Cushions® Heather Grey for the Lagoon 52.
We combined turquoise, the colour of the sea representing tranquility and a deep connection with water, and grey tones incorporating the interior of catamaran. For a soft transition between these two colours we also included beige details.
Set it apart from other catamarans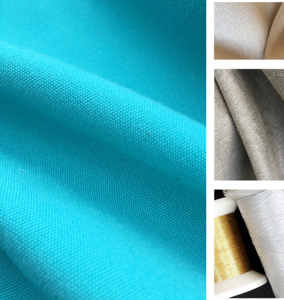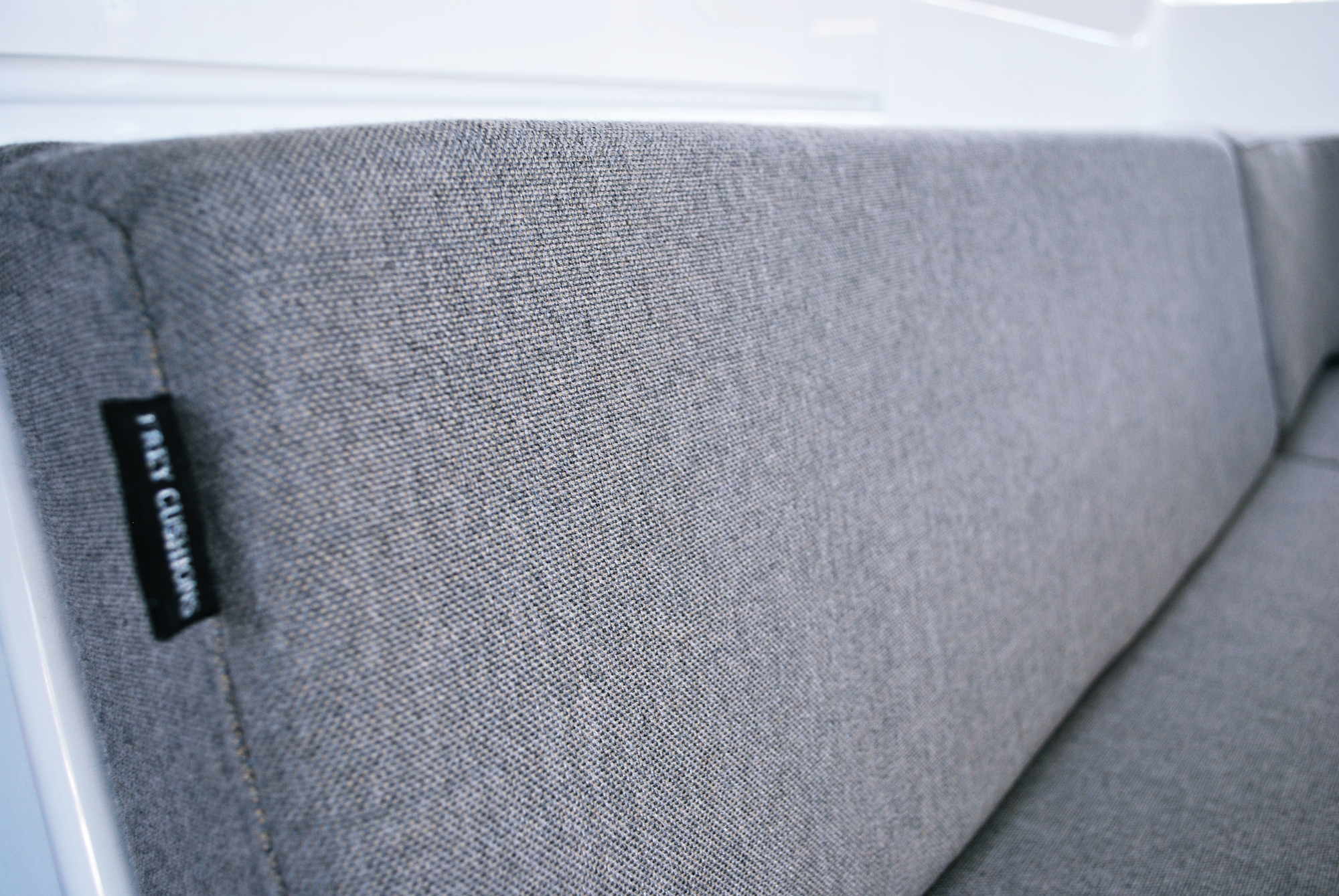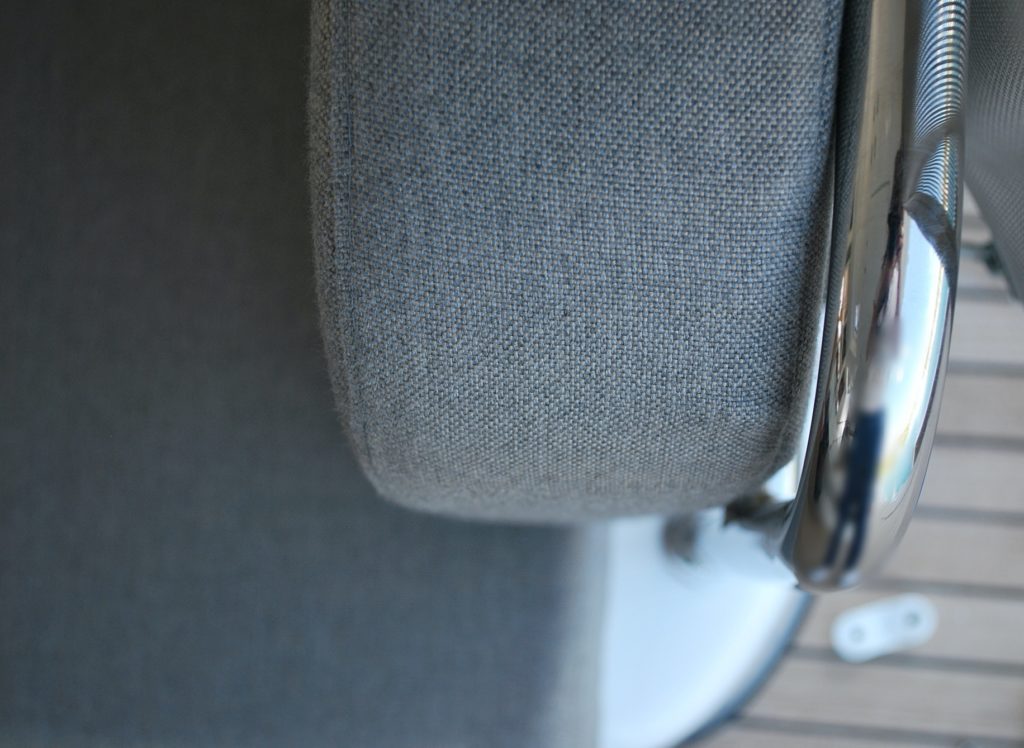 Fashion & Quality Sunbrella®
To achieve a completely modern look on the aft cockpit, flybridge and forward cockpit zone of this Lagoon 52, perfect match colours were necessary. Sunbrella cushions Heather Grey was a great choice for this catamaran and a classy backdrop to offset the Aruba coloured
luxury pillows.
Sunbrella Cushions® offer a 5 year warranty and is the perfect durable marine fabric.
For timeless design and style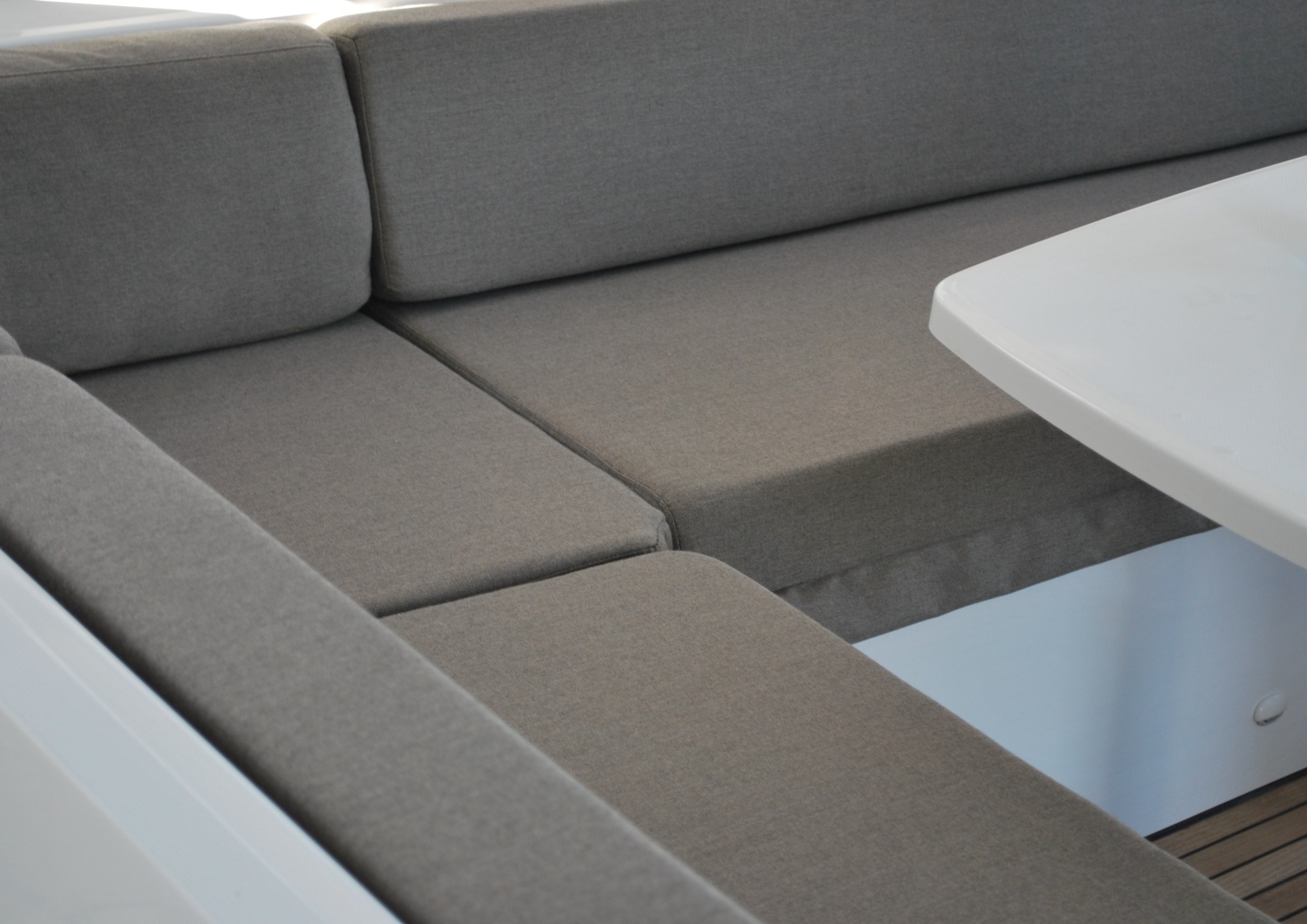 The straight lines and shape of the yacht cushions give an elegance to the aft cockpit of the
Lagoon 52.
We manufactured them with dryfast foam of
10 cm thickness with an additional inbuilt layer for extreme softness and comfort.
Making A Wine & Dine Zone On The Lagoon Deck Saloon
To make meals in the wine & dine area of the Lagoon deck saloon a real pleasure, we have taken a step further and made personalised embroidered tablecloths with scattered custom made pillows from our Royal Ocean collection from FREY LUXURY PILLOWS.
A perfect welcome!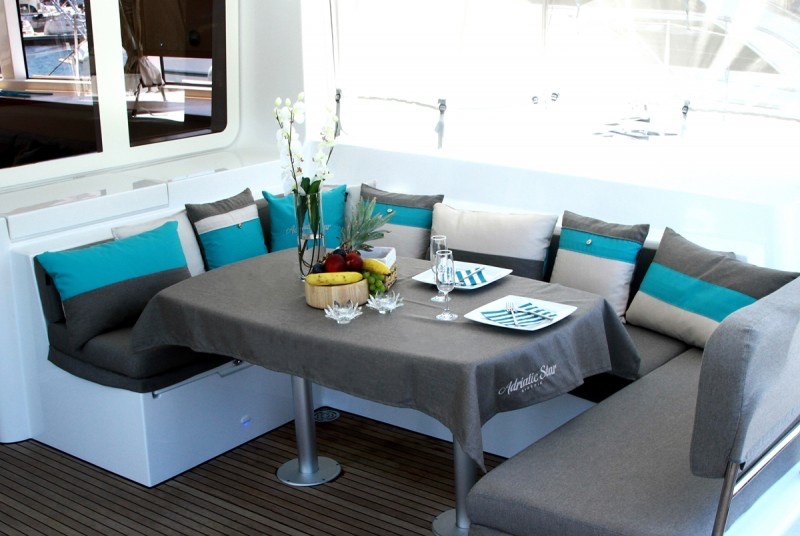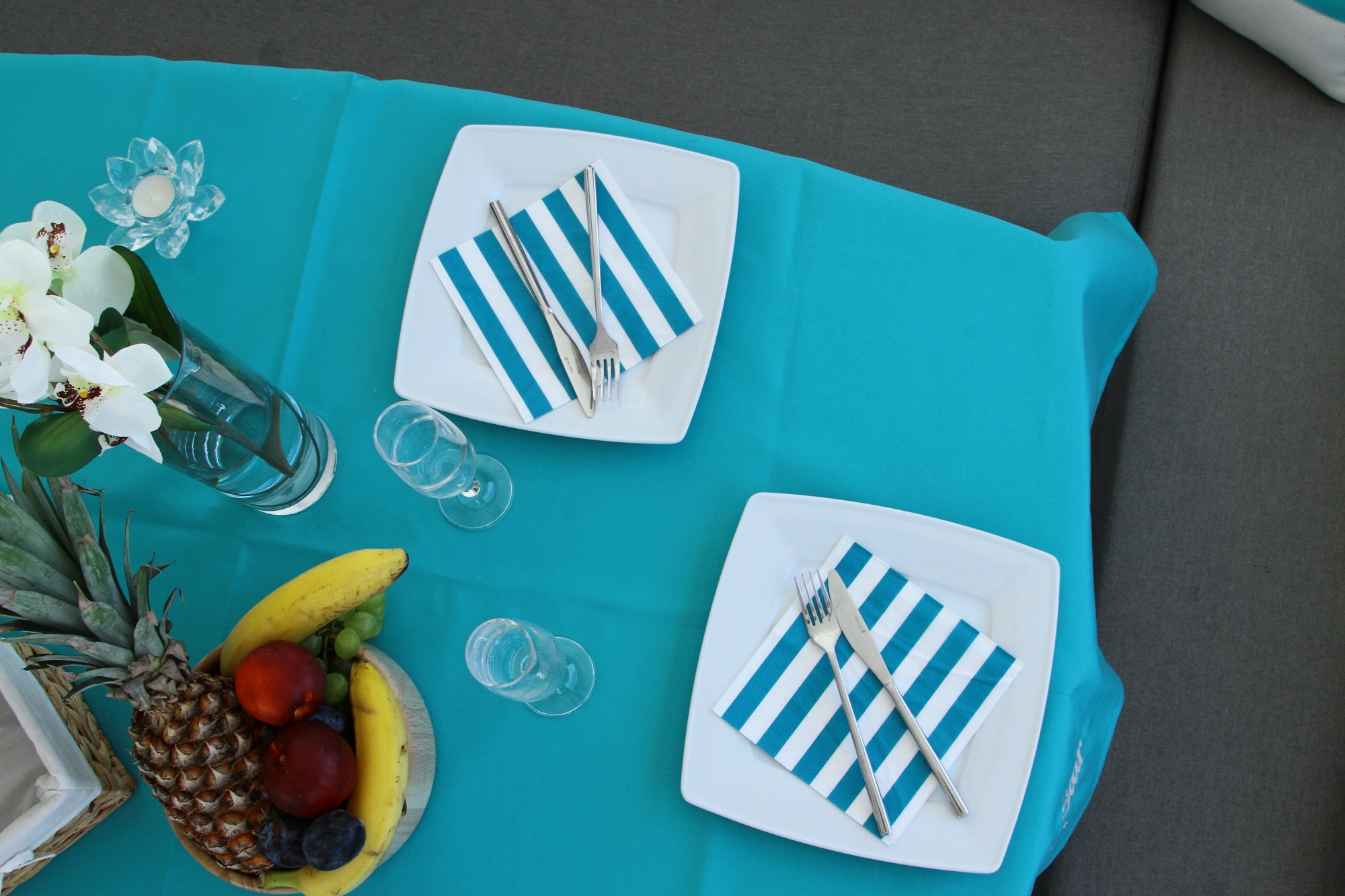 Orchestrating Your Yacht With FREY Yacht Decor
These bespoke tablecloths are a great match for the grey yacht cushions in the Lagoons'
aft cockpit.
They accentuate the Lagoon catamaran colours, making breakfast, lunch or dinner enjoyable.
With a touch of fresh fruit & wine the yacht owners have a recepie for spectacular dining through the summer days and nights in the Lagoon aft cockpit.
A memorable cruising experience!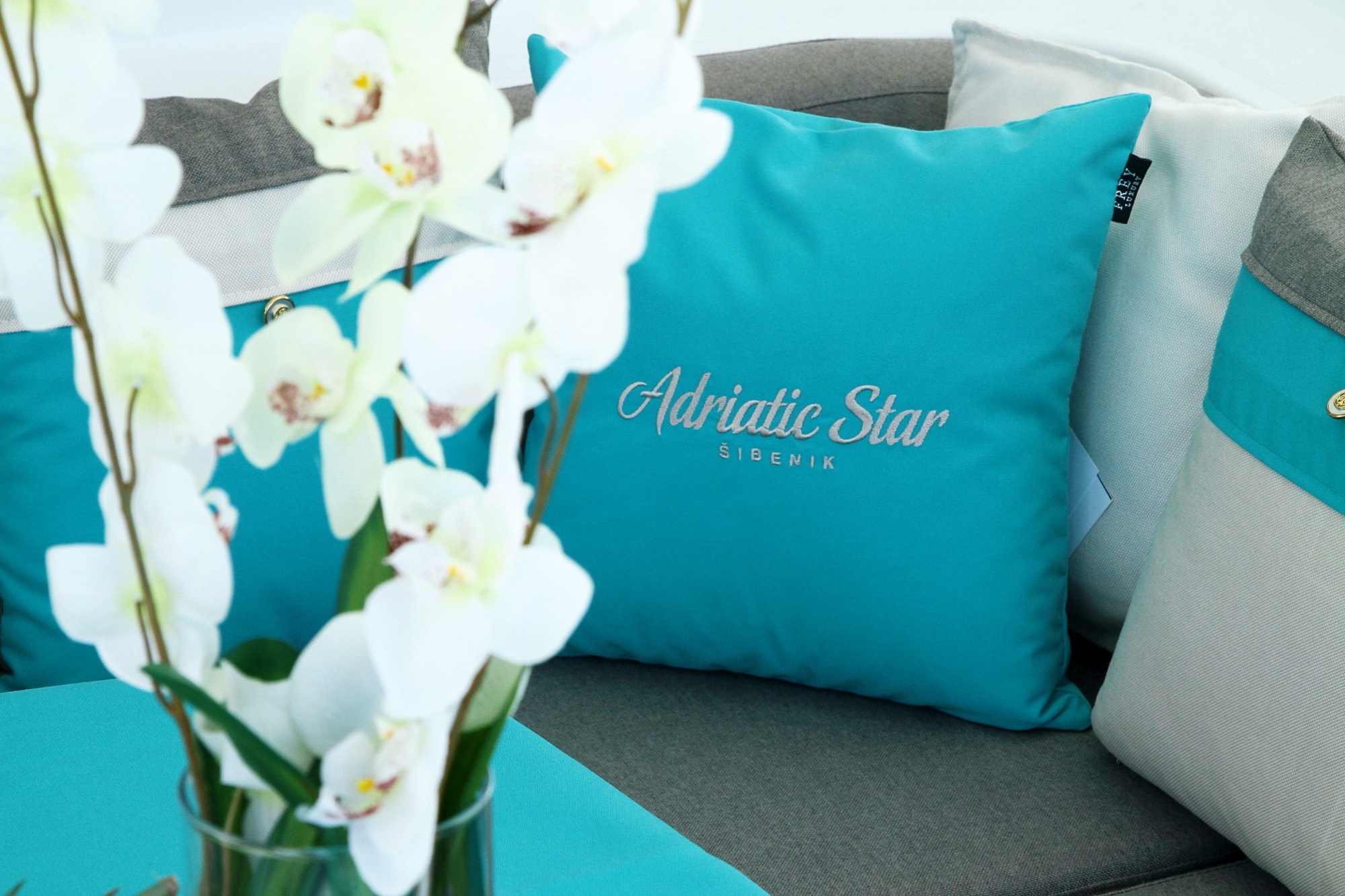 Eye Catching Designs
Embroidered details on pillows always highlight monograms or the name of your yacht giving it a personalised touch.
As the Adriatic Star should be individual, memorable and set apart from other charter catamarans we designed special embroidery on gorgeous Sunbrella® pillows.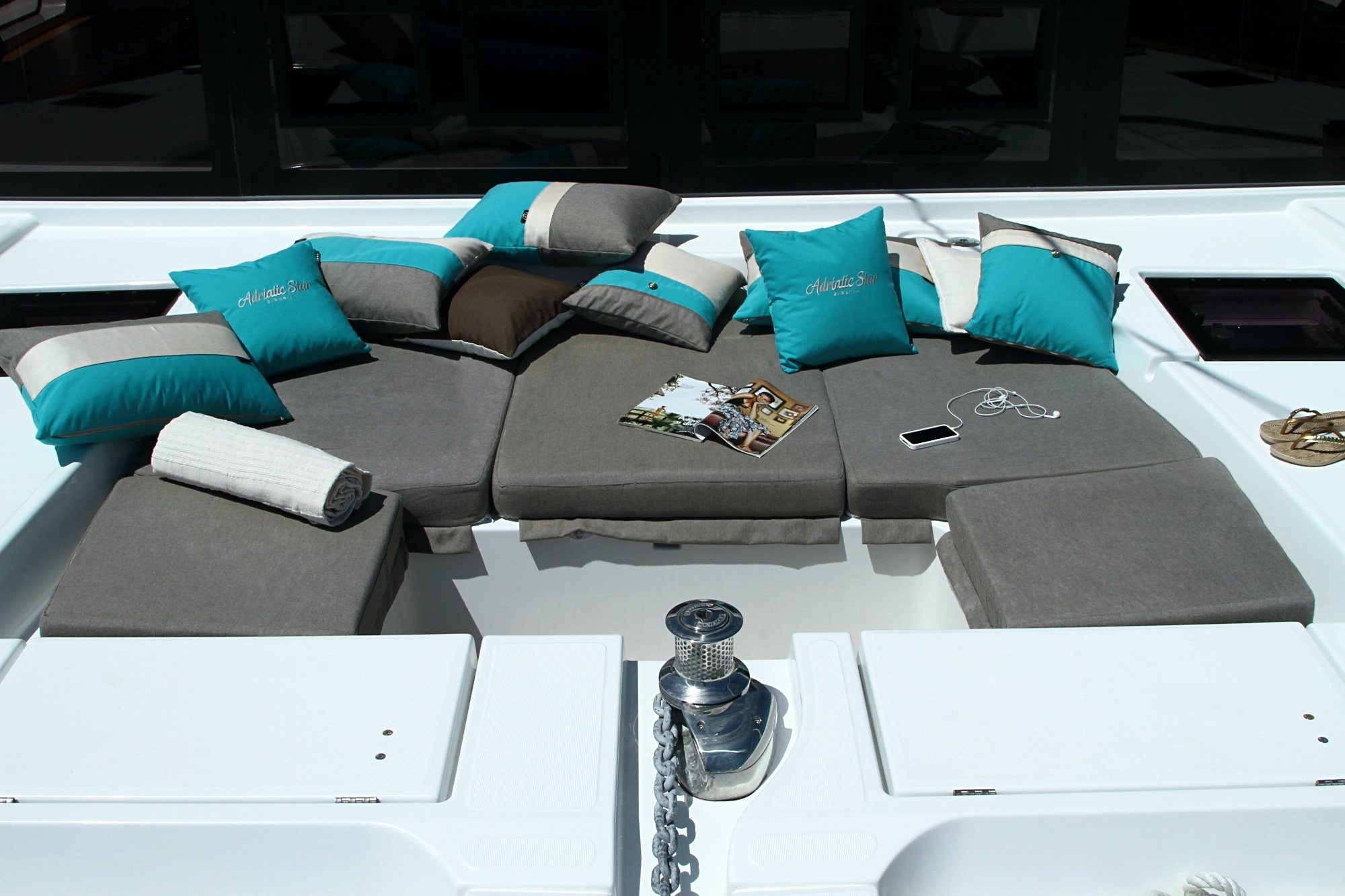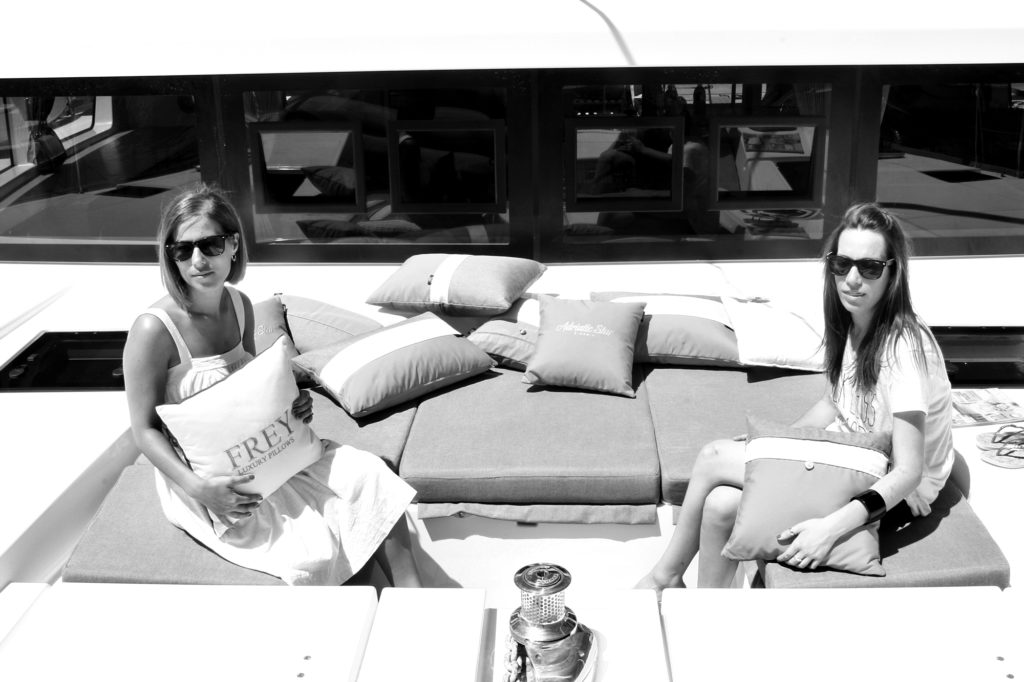 Chilling On The LAGOON Forward Cockpit
Staying true to the original U-shaped seating area in the Lagoon 52 forward cockpit we manufactured perfect fit cushions.
With lots of cosy pillows, this forward cockpit is the perfect chilling zone during cruising.
All You Need On The LAGOON Flybridge
By paying attention to particular elements you will realise that FREY luxury products are a must for comfort.
This is the secret of a pleasant and comfortable catamaran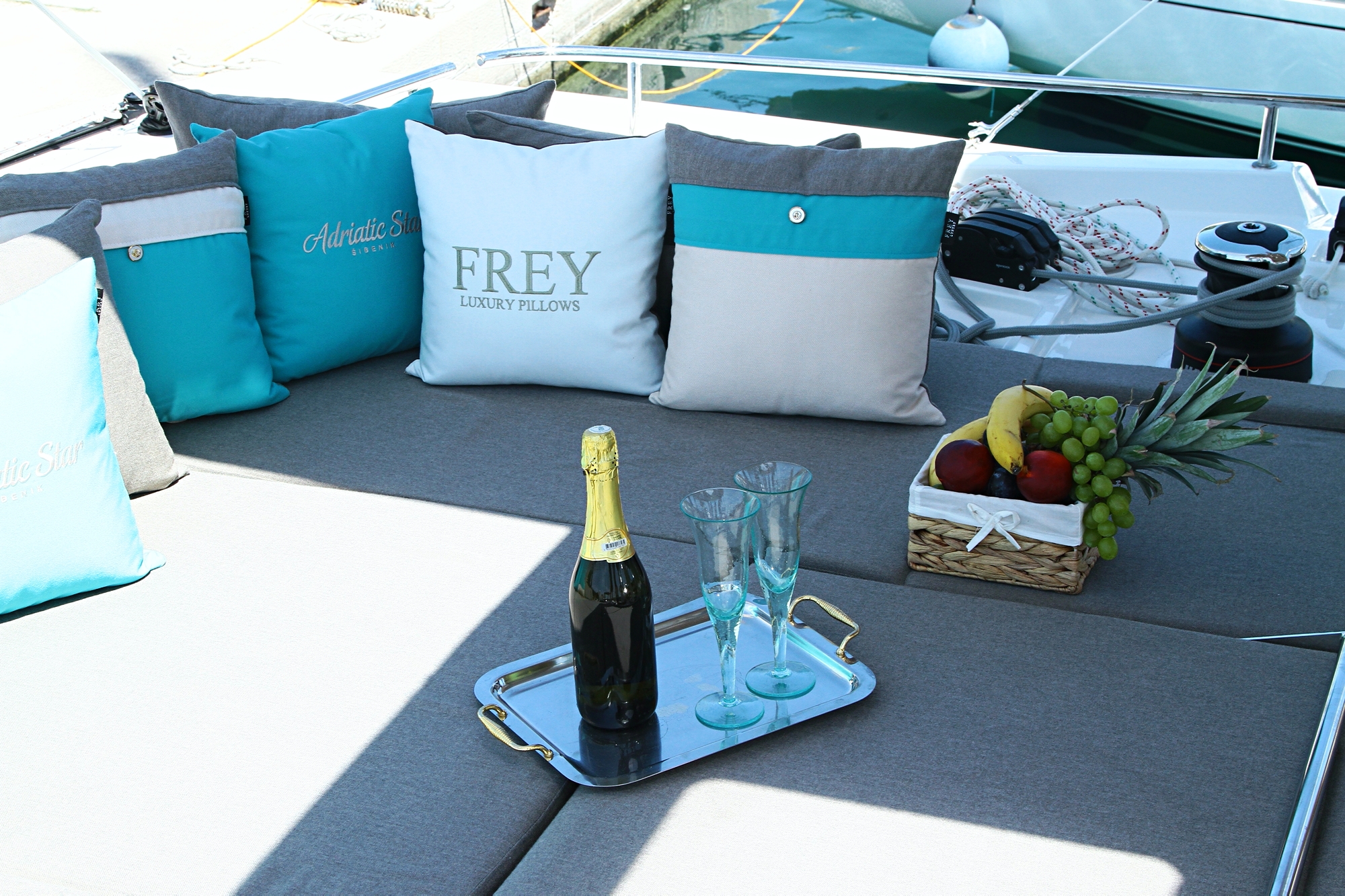 Chillout time on the LAGOON 52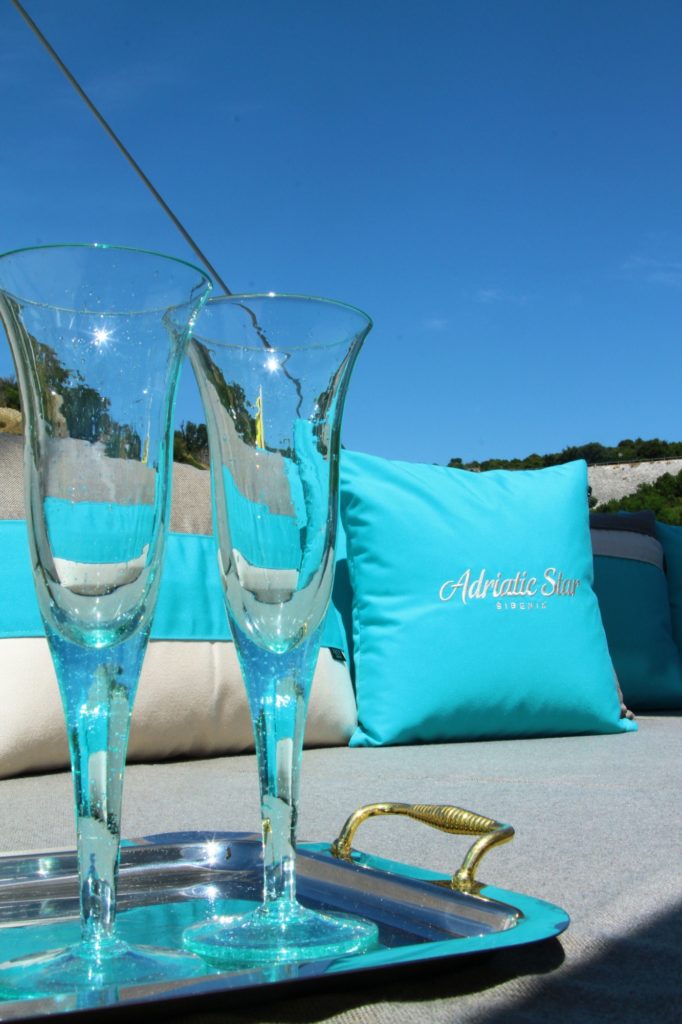 #Similar Projects